This page contains affiliate links. If you make a purchase after clicking a link I may get a commission at no cost to you.
So this is a pretty specific desk, but it's what I was looking for recently and also what I ended up buying. In my new house, I converted one of the spare bedrooms into a home office. I don't work from home full-time, but I do work at home fairly often so I wanted a proper office rather than just sitting on the couch on my computer and wreaking havoc on my poor neck. For me personally, I was looking for the best minimal L shaped home office desk that I could find within my budget.
The requirements for this desk were as follows:
Must be L shaped
Must be lightweight and minimal
No drawers (or maybe 1-2 small ones)
Needs to be inexpensive yet quality made
I think I met all of these requirements with the SHW Home Office Large L Shaped Corner Desk on Amazon. It's made of steel and a particle board with a nice cherry finish, although it comes in black too. I'll admit I have never been a fan of particle board, it's just not as nice as real wood.
However, this desk looked really nice and I needed a desk for my office soon. After a few weeks of looking, I wasn't finding any solid wood desks that fit the bill on Facebook Marketplace, Craigslist, or in any local thrift or antique stores.
So I pulled the trigger on the best minimal L shaped home office desk I could find at my go to online shopping website, Amazon. It showed up in just a few days like I expected. The box was a little beat up, but that's fairly normal when you order oversized items online.
The desk itself was in fine condition, and all the parts were there. It was stupidly simple to put together and once done, I had a very sturdy and lightweight desk for my office that fit right in the corner and looked great!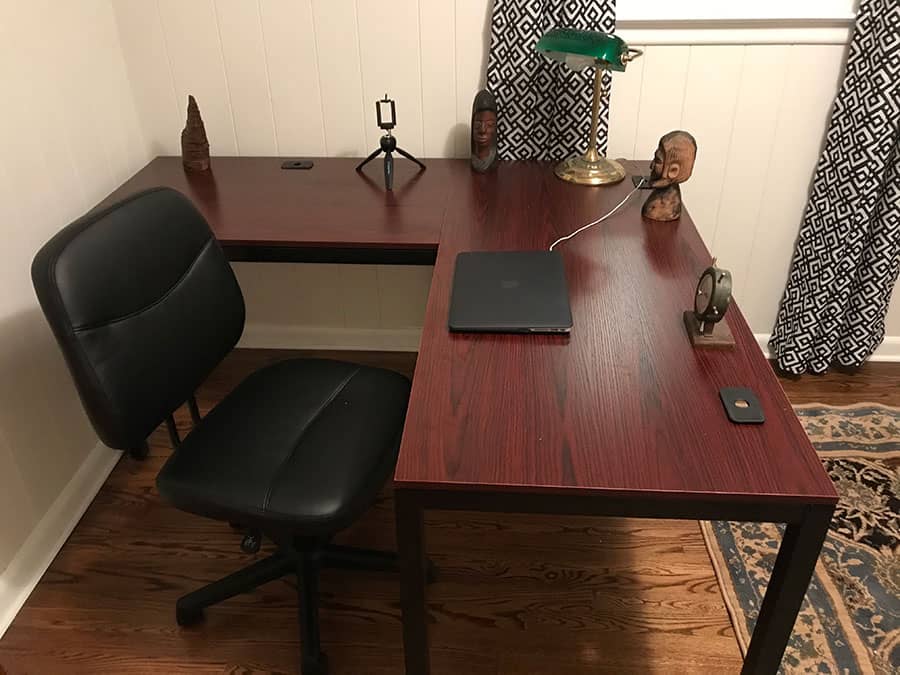 What's great about this desk?
This desk isn't like out of this world amazing… but it's a quality desk at a good price and that's about all we can ask for in a purchase. Good quality, good price. I'm very happy with my purchase and plan on getting years of use out of this home office desk. Here are a few of the features that led me to buying this desk and enjoying using it once home and assembled.
Quality
As I mentioned this desk has a steel frame and particle board for the desktop. It's not the most high quality desk ever, but I am definitely satisfied with it and I think the manufacturer made a quality product and sold it at a fair price. There a couple of very small dents in the frame under the desktop, but they affect nothing and will likely never be seen by me or anyone using the desk in the future. I assume it happened during shipping so I do not fault the manufacturer. I would definitely buy this desk again, and I actually might get a matching one for the other side of the office.
Easy to assemble
This desk was a breeze to assemble. You can do it by yourself but I recommend getting someone to give you a hand if possible, I had my 10 year old daughter help hold the legs up while I was lining the holes up and stuff. I'd say it took about 45 minutes to put this desk together from start to finish and I didn't run into any snags like a missing screw. So A+ for ease of assembly.
Simple and minimal
This desk really hit this requirement for me perfectly. It's very simple and minimal. It's essentially just a lightweight table at desk height, just what I was looking for.
Lightweight
According to the manufacturer the weight of this desk comes in at 60 lbs. Considering its size, that's pretty darn light. It's very easy to pick up and move or scoot around. So it's heavy enough to still feel sturdy and strong, but light enough to easily pickup which is the perfect combination.
Very sturdy
Once you have this desk fully assembled with all the screws fully tightened, you can tell it's a solid piece of furniture. As you can see from the image above, I don't keep much on the desk but it would easily hold a big gaming tower and monitor without becoming wobbly at all. So it's nice to know that I could put some weight on it if I every decide to.
L shaped
A basic L shaped desk just has a long piece and a short piece that connects to one end making it look like an L. You can put it into a corner facing the wall, in the middle of the room, or do something like I did. This particular desk lets you put the little piece on either side, depending on where you want to place it. So the L can be on either side.  
Has holes for cords
No big deal, we expect this in a computer desk of any type but it's still a nice touch. No one wants to see a bunch of ugly cords all over the place, and it kind of defeats the purpose of being minimal. This desk has cord holes in 3 different spots, 2 on the main piece and 1 on the small part.
Adjustable feet
The feet are adjustable so you can level this desk regardless of where it is placed. If I wanted the front of my desk to actually sit on that area rug, I could have adjusted the feet to do so and still kept it level. I didn't want to so I just screwed all the feet in all the way and still ended up with a perfectly level desk.
Conclusion
Overall this is a pretty nice little desk that I would strongly recommend to anyone looking for the best minimal L shaped home office desk out there. Is it actually the best in existence? I have no clue, probably not. However, it is a good little desk and I am really liking it. It works great for my little office and I'm very happy with my purchase!