This page contains affiliate links. If you make a purchase after clicking a link I may get a commission at no cost to you.
If your situation is similar to what mine was/is then maybe you aren't in a position to buy the power rack you really want from Rogue or Titan. Maybe you don't have the room, necessary funds, or either. I scoured the Facebook Marketplace, Craigslist, and a couple of other local online classifieds without ever finding what I wanted in the right price range.
My requirements were basically:
it needs to be inexpensive
functional for bench press, squatting, overhead press, bent over rows, shrugs, etc
footprint needs to be as minimal as possible
I already had a suitable bench, Rogue barbell and bumper plates so I was set there. I just needed a squat stand or power rack that I could temporarily fit into a tiny area of my living room. Yes, my living room. I am a single guy, I only answer to myself and I didn't have any other place to put it. I had been eyeballing one on Amazon and Walmart that I was considering buying but kept hoping that I would run across something used I could get for a steal.
Overall this squat stand from CAP is a really great beginner power rack. The main drawback for me, is the lack of spotter arms or lack of the ability to even purchase them as an accessory. However you should be fine if you know your limits.
The holes are only 1 inch in diameter whereas most power racks are 2 inch diameter holes. So no, you cannot purchase spotter arms from another company like Titan or Rogue and use them on this. You may be able to make some if you are handy and good with welding perhaps.
CAP Barbell Power Rack Review
The one I ended up ordering from Amazon was the CAP Barbell Power Rack Exercise Stand. Compared to other squat stands and power racks it priced very low. You don't get the same quality as you would from a Titan or a Rogue power rack of course, but it gets the job done. It has a few drawbacks sure, but for the money you really can't go wrong. Eventually I plan to get something that will last me for the long term with no small weight limits, that is more heavy duty basically. For now though, this thing is great!
How to save $50 on the already low priced CAP Barbell Power Rack
I had been looking into the Amazon Store Card for sometime and with the mention of a free $50 gift card upon sign up, I decided to go for it. So I applied, was accepted immediately and had a $50 gift card at my disposal right away. I used this towards the purchase of my new power rack and got an already inexpensive squat rack for even cheaper.
Many people aren't going to sign up for a credit card and I get that. For me it was fine, there are no annual fees and I don't plan to use it much anyways. The APR is through the roof so if you do get it, just use it for the 6 or 12 months same as cash option which is a great deal. If you make regular purchases just make sure and pay them off in 30 days or less.
The best thing about the Amazon store card is the 5% cash back on all purchases through Amazon. I use this all the time and it really adds up if you are a big Amazon shopper.
I have low ceilings, will it fit?
My ceiling in my living room is about 7.5 feet high. After assembly, there is still about 8 inches of clearance. I can still do pull ups on it but my head brushes the ceiling. It's not too bad though and I didn't buy the thing just for pull-ups. With my low ceilings though, I am unable to use the barbell holder in the back left corner.
It would be best to have 8-9 foot ceilings, but you can get by with 7.5 ft ceilings like I did. Probably 7 ft if you do not care about pull ups at all. I read a ton of reviews on Amazon about low ceilings and most people were saying don't even try it if you are under 8 ft, well I did and it's fine.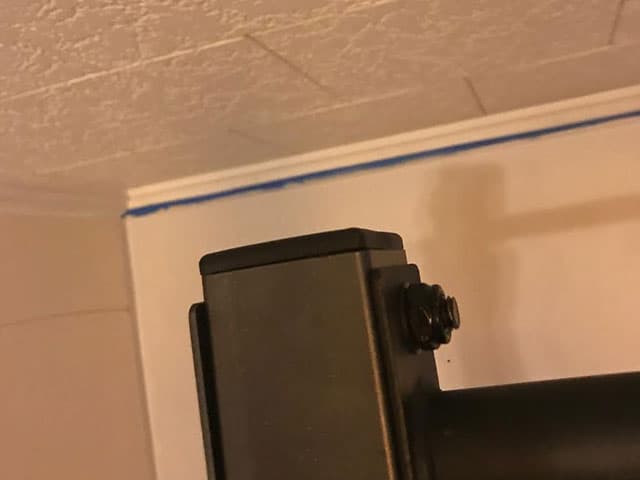 Is it sturdy and how much weight does it hold?
It is actually pretty sturdy. It is in my living room so I do not have it bolted to the floor or anything. I do however usually keep my 45lb plates stacked up on the plate holder. When doing pull-ups it stays nice and still. I also used the cheap little tool they provided to put the whole thing together. I could have made it easier on my self and gone and got a good wrench but I didn't and it got the job done.
The manufacturer has it rated at holding 300lbs. That will be plenty for me for a while. I don't even own that much weight and probably won't for a while. Once I am squatting or bench pressing that kind of weight then it's time for me to move on to a Rogue or Titan power rack. I have been looking at either this Titan Power rack, or this one from Fitness Reality has great reviews on Amazon and the internet in general.
Update after about a year of use
Ok so I've been using this thing for about a year now. I can say that after many months of use it is still as strong and sturdy as the day I put it together. In fact, I think I'll just continue using it and skip spending the extra money on a more heavy duty power rack from one of the more name brands mentioned above. This power rack from CAP is not the fanciest, and it has some cons, but for the price you can't beat it.
I've actually recently moved and it is in a much larger space with 11 ft ceilings now, woohoo pull-up time.