Garage and estate sales share common characteristics but are unique in their definitions. You can find deals and treasures at both, often at a significant discount compared to new. When it comes to a garage sale vs estate sale, the largest difference between the two is this. A garage sale is a way of getting rid of old and unwanted items, while an estate sale is typically a formal event selling the items of a deceased loved one or someone who cannot keep their belongings.
Let's learn a little more about the differences between garage sales and estate sales.
Garage Sale vs Estate Sale
An estate sale is a more formal event than a garage sale that involves selling all or most of the contents of a home. Expensive items are often sold or even auctioned off to the highest bidder. A garage sale is a more casual event where just select items that are no longer needed or wanted are sold cheaply.
If you're looking for high-quality antiques or collector's items, try an estate sale first. An estate sale might have valuable art or custom furniture that will be auctioned off to the highest bidder, while a garage sale has inexpensive knick-knacks, trinkets, and used goods.
You can find treasures at both an estate sale and a garage sale, including vintage items. Expect to spend much more time at an estate sale however.
What is a garage sale?
Garage sales most often take place on the weekend, when curious shoppers are out and about looking for deals. Garage sales and yard sales are often a collection of unwanted items from around the home.
Typically, someone holds a garage sale after performing a deep clean of their belongings to see what doesn't belong anymore. Knick knacks, clothes, old furniture, and kitchen items often find themselves on the shelves and tables at a garage sale.
You are free to wander around and look at items, picking up what you want and purchasing at will.
In many cases, communities will hold a neighborhood or community garage sale, allowing shoppers the opportunity to peruse numerous different tables and racks within a short walking distance of each other.
What is an estate sale?
An estate sale is more formal and held within the home. Estate sales are held when people cannot keep their items, most commonly after a loved one passes or during a foreclosure.
Unlike a garage sale, many estate sales are set up in the home environment, i.e. furniture left in place and like items grouped together in an organized manner.
At an estate sale, you will typically receive a number and wait in line until it is your turn to walk in. People often walk slowly through the home or property, viewing the items for sale throughout.
You can pick up smaller items you intend on purchasing, carrying them with you while you tour the home. Large items may have a bidding process.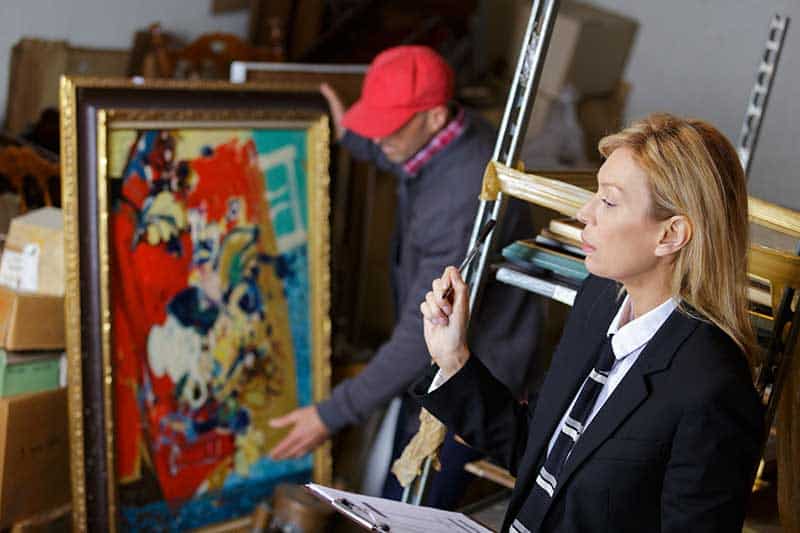 Price difference between estate sales and garage sales
Estate sale items often come with a slightly higher price tag. After all, the items at an estate sale aren't unwanted household items, but the items the person collected over their lifetime.
At a garage sale, unwanted items often have a significant price decrease over new items, with many items being under the $5 mark.
Haggling is more acceptable at a garage sale than at an estate sale. It's easier to haggle over an item that the owner doesn't want anymore, versus an item that is being sold due to unfortunate events.
A majority of estate sales are handled by a firm or company specializing in this type of event. This lends several benefits to the estate's family or holders, including professionals being able to more accurately price potential collector's items.
There are benefits to arriving early and late for each type of sale. When you arrive early, you have more of the items to look through. Arriving later, however, may give you more buying power as the "everything must go" mentality sets in for the owner or manager of the sale.
Should I have an estate sale or a garage sale?
An estate sale is your best option if you are trying to release a lot of items that aren't in bad shape. In addition to unfortunate events, such as a loved one passing away, some people hold estate sales when they're downsizing into a smaller home or retiring.
While most people hire companies to manage their estate sales, you can also do one on your own. If you have older items, investing the time of an appraiser will be beneficial in getting you top dollar for your items.
If you're looking to get rid of some clothes that don't fit, outgrown toys, or home decor that doesn't suit your current style, a garage sale may be a better fit.
Garage sales require much more energy than a company-run estate sale. Advertising your garage sale often includes making ads or posts on social media, manual labor in setting up, and a great deal of time to work on your sale.
---
Conclusion
Deciding between a garage sale vs estate sale depends on what you're looking to put in and get out of the sale.
If you're a shopper looking for deals, garage and estate sales both offer their own unique benefits. When looking for various sales in your area, read the ads or posts carefully to see if there are any details, especially if you're looking for particular items.
If you're needing to release some of your current belongings or those of a family member, the choice of which type of sale comes down to the amount of time and energy you're willing to put into it, along with the money you're expecting to receive from it.