This page contains affiliate links. If you make a purchase after clicking a link I may get a commission at no cost to you.
While you are in the midst of selling your home, it may feel like your life is chaotic. You want the whole transaction to go as smoothly as possible, After all, you don't want to chase off potential buyers. So while in the process of selling your home, you should figure out what to do with your dog during a house showing.
Animal and people interactions can be unpredictable. Your dog might not know how to react to another person or people outside of friends and family coming into their home. A potential buyer might have a fear of dogs or possible allergies.
When in the process of selling your home, you have to be ready for anything, and various things could turn a showing into a disaster when pets are involved. Not that your dog is at fault, even the most well-behaved dog can get excitable and jump on strangers or even be leery of strangers.
What to do with your dog during a house showing – 6 ideas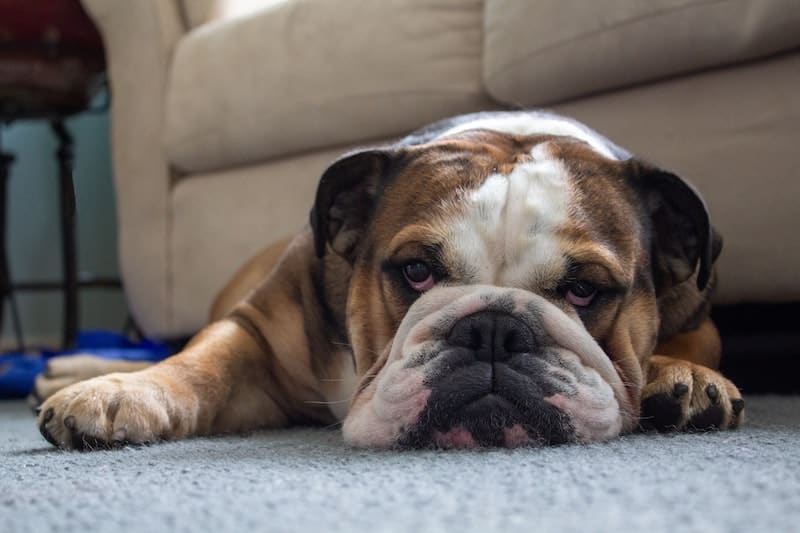 We know having your house on the market is a stressful time. We want to make it easier by giving you some helpful tips you can use with your doggo when a potential buyer is coming.
1. Take the dog to a friends home
A friend or neighbor's home would be a great option if available and possibly the most convenient. It would also be good for your dog to be around people they know, creating less stress during a stressful time.
Having a close neighbor or a friend watch your dog during a showing would be ideal because this also keeps your dog off the property and allows your realtor and buyers complete access to the home. Though, if that's not possible, don't worry, there are other things you can do instead.
2. Put your dog in the garage
You can put your dog in the garage and then attach a sign to all garage access points that says "dog in garage." This is a simple and quick fix if you have a garage and no other available options.
3. Keep your dog in the backyard
If you are able, keeping your dog in the backyard can work. You can use a tie-out like this one here or leave your dog running loose, depending on your situation and if you have fenced areas.
If they are loose, I would recommend leaving a sign on the fence or to the door going to your backyard. This way there are no accidents.
4. Take the dog with you when you leave
Everybody loves a car ride, well, dogs maybe a little more so, but that's why it is a perfect solution. If you need to, having your dog leave with you during a showing would be great! Take them for a ride, take care of a few errands, and by the time you are done, they should be as well.
You don't need to hop in the car, though. You can decide to take your dog for a walk instead, something you can both enjoy while you are going through the hassles of selling your home. Do not worry. The hecticness won't last forever.
5. Use a crate
A crate is also a great way to keep your dog from running the home while you have potential buyers walking through the house. It's also something you may already have at home and don't need to worry about running out and buying one.
If you decide to use a crate, keep it in a location where there is apt to be less foot traffic, like your bedroom, beside the bed. This will help keep your dog from being overly excitable and as far away from your realtor and potential buyer as possible. If your dog doesn't mind, you can also throw a sheet or blanket over part of the crate to help them feel more secure.
If you don't already have a crate, this New World crate is very popular and gets good reviews. Easy set up and break down, and you can choose different sizes and one or two doors.
6. Boarding your pet for a couple of hours
If you have no other options, having a local pet boarder take your pet for a couple of hours could be just the solution you need. You can usually discuss your situation with the pet boarder, and they can work with you. A few hours will be much cheaper than a long term stay. This could be a good option for a longer showing such as an open house, or if you are having multiple showings in one day.
---
Quick Tips for removing pet odor and damage when selling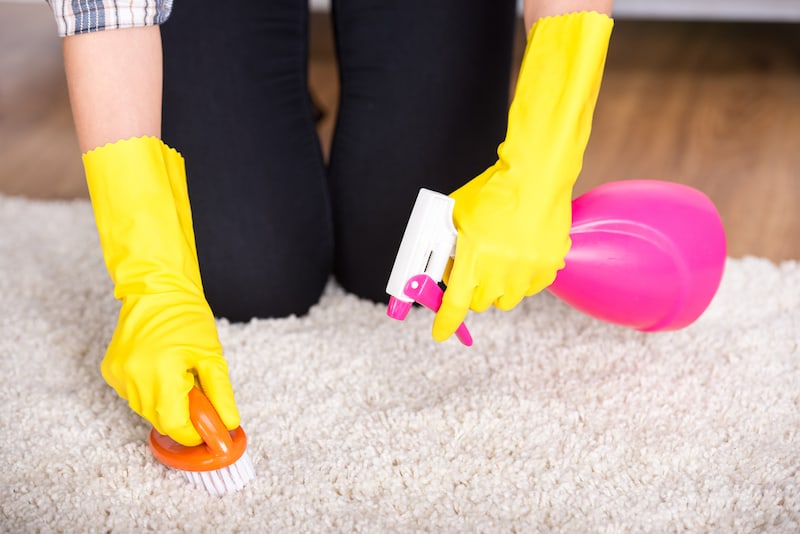 All dog owners know that dogs can be tough on a house, even well trained ones.  We love them, so we don't mind. But when selling your house you want to do your best to hide all of those puppy accidents and "chewing" phases.
A few things you can do
Repair any damage before you start showing. Better to be proactive than to wait and hear negative feedback from prospective buyers. Pulled up or worn down carpet, doors and doorframes that have been chewed up or scratched, significantly scratched up wood floors, and more. Walk around your house and look for these areas that may show significant signs of wear and tear.
Remove any stains and odors. This Rocco & Roxie stain and odor remover is a good choice. But whatever brand you choose, make sure it incorporates enzymes. Enzyme cleaners will attack the root cause of the odors instead of just throwing a temporary nice smell on top of them.
Do a full carpet cleaning. Years of accidents, pet odors, dander and dirt will build up in carpets. A prospective buyer might walk into the house and notice musty pet smells that you didn't realize were there. As a pet owner your nose can often acclimate to those household smells until you no longer notice them. A deep cleaning will go a long way to not only making carpets look brighter and newer, but also making the house smell fresher and removing allergens. You can pay a professional to take care of it for you, or purchase a carpet shampooer. With a pet, it would likely be something you'd use at your new house too.
Clean up your yard. Even if you don't have much landscaping, a tidy yard will go a long way to making the house look nicer. Put away all the dog toys. Dispose of any feces. If your dog is a digger, fill in those holes. Repair any damaged, chewed up areas in fences, decks and siding.
---
Conclusion
Don't set your pup up for failure. We may believe our dogs would never hurt a fly. But dogs are sensitive animals and can pick up on the change in energy and new people in the home, and it can be stressful for them. Between the hustle and bustle of trying to sell your home, adding strangers into the mix, and not knowing how those strangers will react to your dog, it's better not to chance it.
When selling your home, your dogs or any pet can cause unforeseen problems. With these helpful suggestions, you should have a smooth showing and interaction with possible buyers.