This page contains affiliate links. If you make a purchase after clicking a link I may get a commission at no cost to you.
As the popularity of Christmas trees has grown, so have the choices. You can find everything from a tree you cut down yourself on a farm to an entirely decorated and lit tree you just take out of the box and plug in. We put together a large list of the different types of Christmas trees, both synthetic and real, to help you navigate your options. 
In this article we will cover the main species of live trees used at Christmas and tell you about each one. Then we will cover some synthetic options, including some great space savers and fully put together packages. No matter what your needs are this holiday season, we've got you covered.
24 Types of Christmas Trees to Consider This Year
Most species used for real Christmas trees fall into one of these four categories:
Fir Trees: Common fir Christmas trees are balsam fir, Fraser fir, Douglas fir, grand fir, nobel fir and, white fir. Needles are flat, blunt and grow individually off the stem-like branches. Needles grow in a spiral up the branch giving the tree a bushy and full look even with minimal decoration. Sturdy branches. Typically very fragrant.
Pine Trees: Common pine Christmas trees are Eastern white pine, Scotch pine, Virginia pine and, Monterey pine. Longer needles that grow in bunches. Usually there are fewer branches giving a less "tightly packed" look and more room for a generous amount of decoration. Flexible branches.
Spruce Trees: Common spruce Christmas trees are blue spruce, Norway spruce and white spruce. Needles are stiff, sharply pointed at the end and grow individually off the stem-like branches. Branches turn upward in a classic conical shape, and there is generally more room for ornaments than fir. Sturdy branches.
Cypress Trees: Common cypress Christmas trees are Arizona cypress, Leyland cypress and Eastern red cedar. Feathery leaves that can be soft or sharp. Dense foliage, flexible branches.
Let's look at each common species!
1. Balsam Fir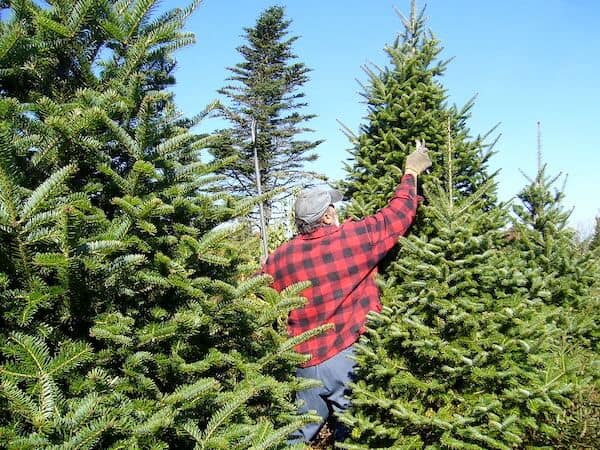 Scientific name: Abies balsamea
The balsam fir is native to most of eastern Canada and the United States. It is one of the most popular Christmas trees, especially in eastern North America, due to its color and strong fragrance. Balsam fir has a conical shape and dark green needle-like leaves that can have a hint of white-silver coating on them.
The needles don't drop quickly after the tree is cut, which means it will stay full looking for the holiday season. The branches are strong and good for use in wreaths or holding up heavier ornaments. Balsam fir also has a wonderful aroma that most people have come to associate with Christmas.
---
2. Fraser Fir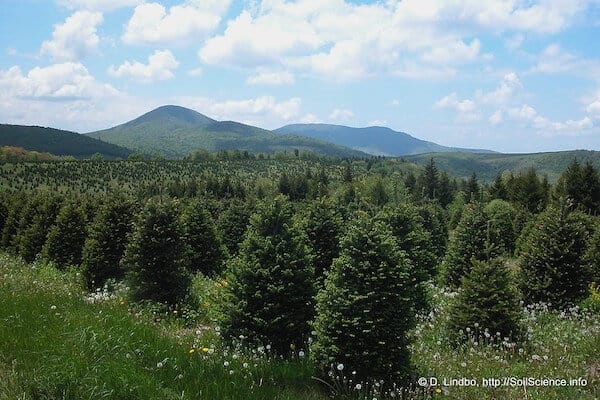 Scientific name: Abies fraseri
The fraser fir is native to the Appalachian mountain range in the southeastern U.S. In fact, North Carolina is the largest producer of fraser fir Christmas trees. This fir tree has a conical shape, yellowish green needles and branches that angle slightly upward. Fraser fir branches are quite sturdy, and would be a good choice for hanging heavy ornaments and garlands. It also has a fresh scent.
---
3. Douglas Fir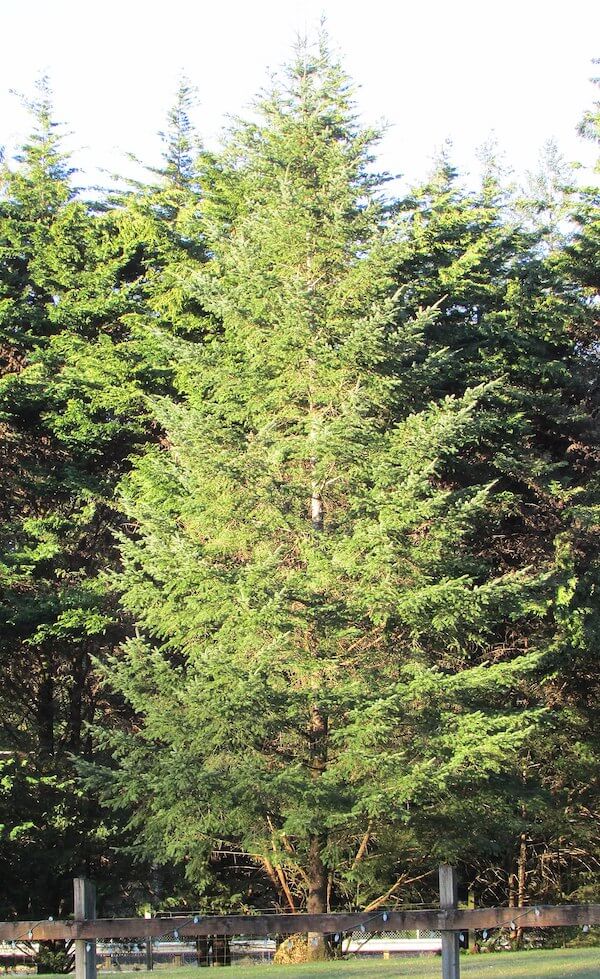 Scientific name: Pseudotsuga menziesii
The mighty Douglas fir is native to western North America. There are three varieties, the coast Douglas fir, Rocky Mountain Douglas fir and Mexican Douglas fir. Interestingly, despite being called a fir, it is not technically a fir tree and doesn't belong to the same genus "Abies" as all the other fir trees on this list. However it is the king of Christmas trees, making up nearly 50% of all Christmas trees grown in the United States.
Douglas firs have a pyramid shape and their needles are a dark green, sometimes with a blue tint. Like other fir's they have good strong branches for decorating, and a strong fragrance.
---
4. Grand Fir
Scientific name: Abies grandis
The grand fir tree, one of the largest firs, is known by many names, including giant fir, western white fir and Oregon fir. They are native to the Pacific Northwest and Northern California. The coast grand fir variety is found west of the Cascade Mountains, while the interior grand fir is found east of the Cascades.
The needles of the grand fir have a yellow-green coloring with an aromatic cirtus-like scent.
---
5. Noble Fir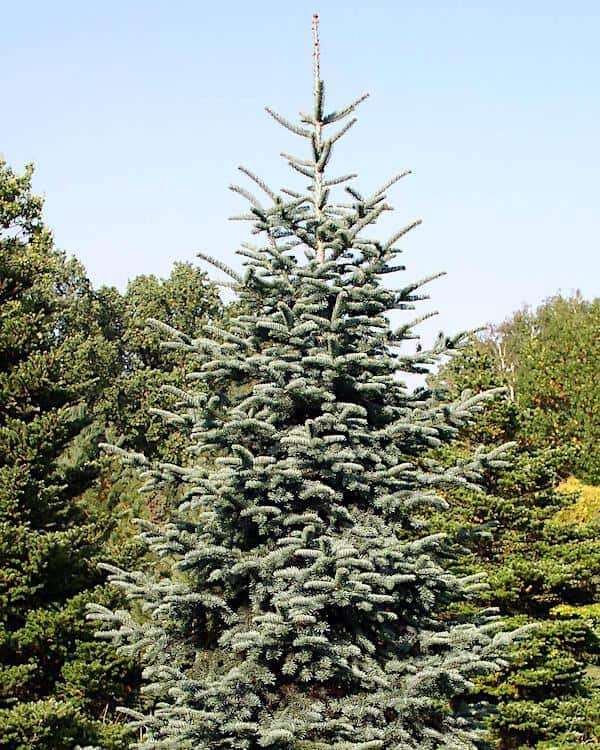 Scientific name: Abies procera
The noble fir, also called red fir, is native to the Cascade Range and Coast Range mountains of northern California and the Pacific Northwest. Noble firs like to grow at high altitudes of 980 to 4920 ft. It is a popular Christmas tree featuring dark green needles, evenly spaced branches angled slightly upward, and a strong fragrance. Plenty sturdy for all your decorations.
---
6. White Fir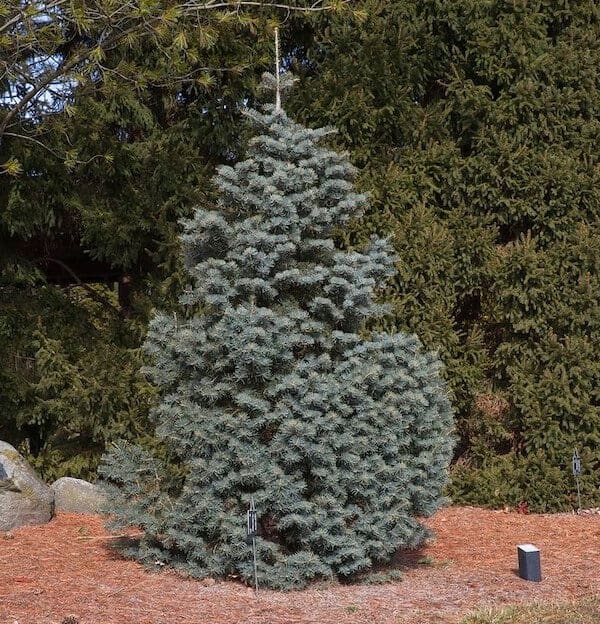 Scientific name: Abies concolor
The white fir is also known as the concolor fir, and has needles that are a bluish-green color. They can give off almost a white sheen in the light. Native to the western U.S., the white fir grows in California, Oregon, Nevada, Utah, Arizona, New Mexico and Colorado.
Another popular Christmas tree, the white fir is known for its soft needles, and good needle retention and fullness after cutting. It still has that common fir tree fragrance, but not as strong as the other firs on this list.
---
7. Eastern White Pine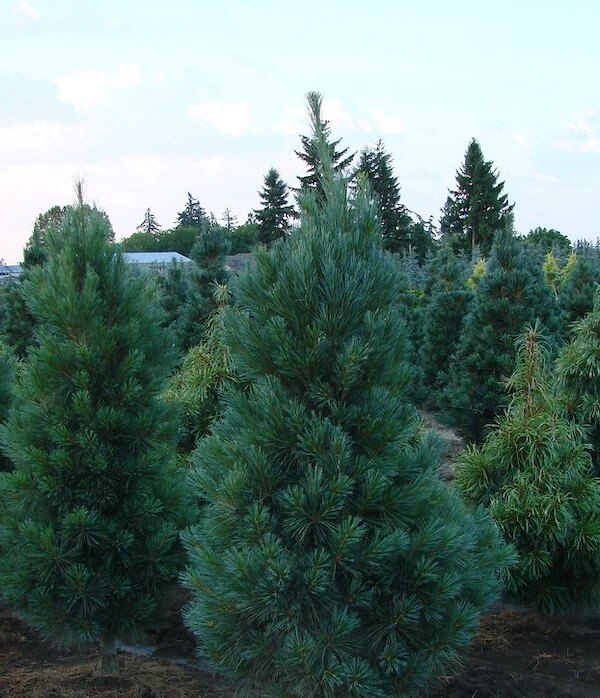 Scientific name: Pinus strobus 
The eastern white pine, also called the northern white pine, is a common tree of eastern North America, especially in the northeastern U.S. and Canada. In fact it's the tallest growing tree in this region, able to reach 230 feet, however there are few old-growth trees left that size.
Its blue-green needles grow in bundles, and are known for not dropping off the tree quickly after cutting. The branches are flexible and less firm than fir trees, so this might not be the best choice if you have very heavy or large ornaments and decorations. However this flexibility comes in handy for wreaths and garlands where the branches need to be shaped.
Eastern white pine doesn't have a strong smell, which is a good choice for people sensitive to heavy fragrance.
---
8. Scotch Pine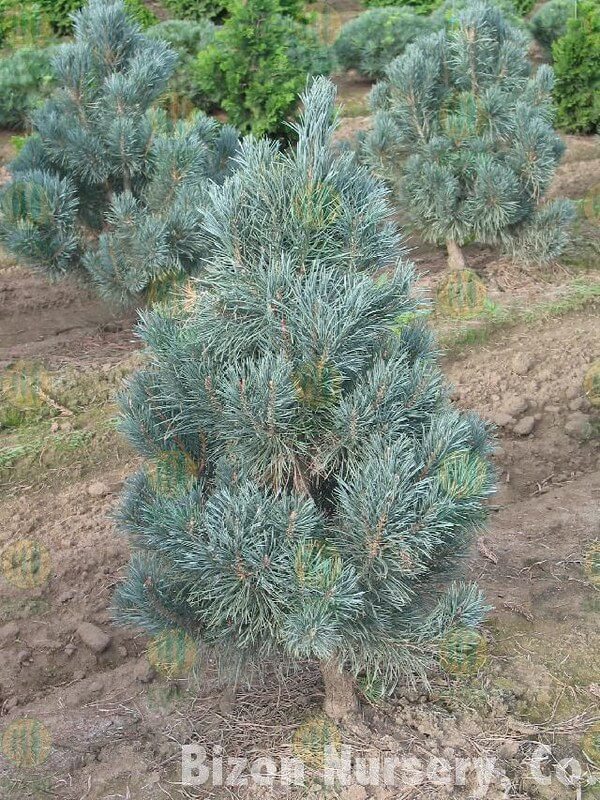 Scientific name: Pinus sylvestris 
The Scotch or "Scots" pine is native to Eurasia, and is the only pine tree species native to northern Europe. It is believed to be one of the first trees introduced to North America in the 1600s. Today it is actually listed as an invasive species in places like Ontario, Michigan and Wisconsin. However for many years it has been one of the most popular Christmas trees in the U.S.
Scotch pine has a nice dark green color and sturdy branches for plenty of decorations. It is also known to have good needle retention, which means less mess on the floor.
---
9. Virginia pine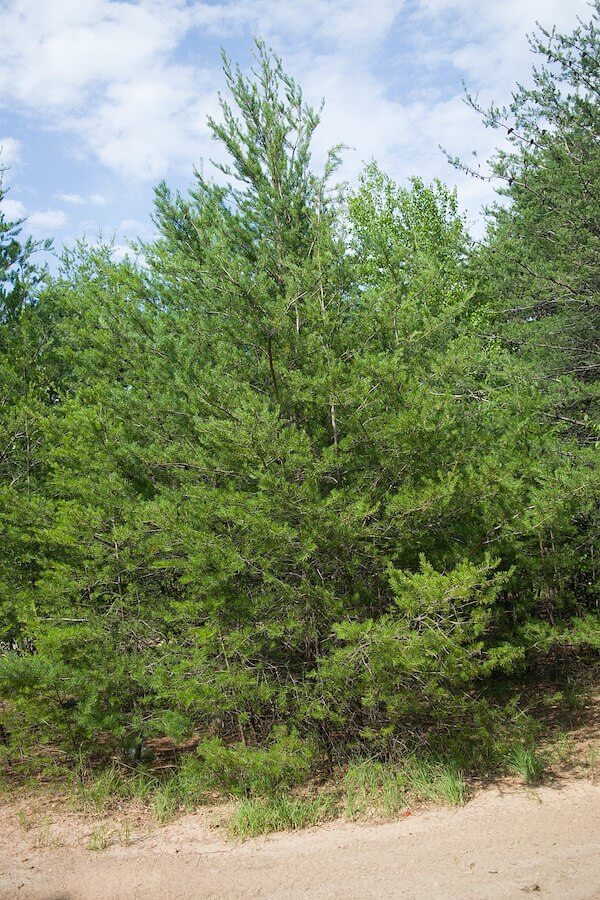 Scientific name: Pinus virginiana
Virginia pine grows in the U.S. from southern New York down through the Appalachian Mountains into Tennessee and Alabama. These trees were historically used in the mining and railroad industries, and today are used in reclamation and reforestation.
Virginia pine has yellowish-green needles that grow twisted and in pairs. It has dense foliage for a nice thick appearance and is easy to trim and shape. This pine has a medium fragrance.
---
10. Monterey Pine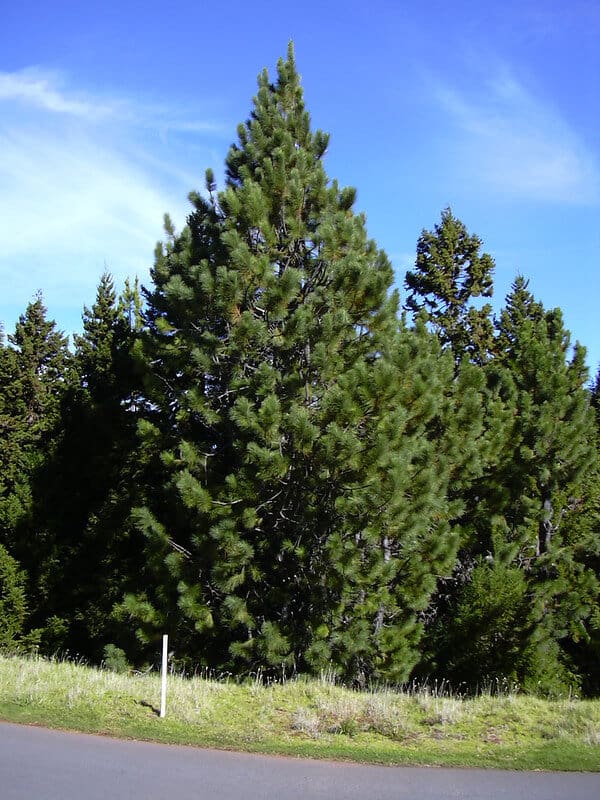 Scientific name: Pinus radiata
The Monterey pine is native to the Central Coast of California, but is widely planted around the world due to its fast growth and desirable lumber. It has taken a back seat to fir trees when it comes to being used for Christmas, but some tree farms still grow it. After all, in the right climate it only takes 3 or 4 years to reach typical Christmas tree height.
The Monterey pine has bright green needles that are about 4 inches long and really give the tree a full-bodied appearance. Branches usually curve upwards.
---
11. Blue spruce
Scientific name: Picea pungens
The blue spruce is known by many names, including green spruce, white spruce, Colorado spruce and Colorado blue spruce. It is native to the U.S. and while introduced to many areas, it grows naturally in Arizona, Colorado, Idaho, New Mexico, Utah and Wyoming.
Blue spruce has thin, sharply pointed needles of a silvery-blue color. It has fairly dense foliage and grows in a natural Christmas tree shape. The branches are strong enough for any decoration and the tree boasts and strong fragrance.
---
12. Norway Spruce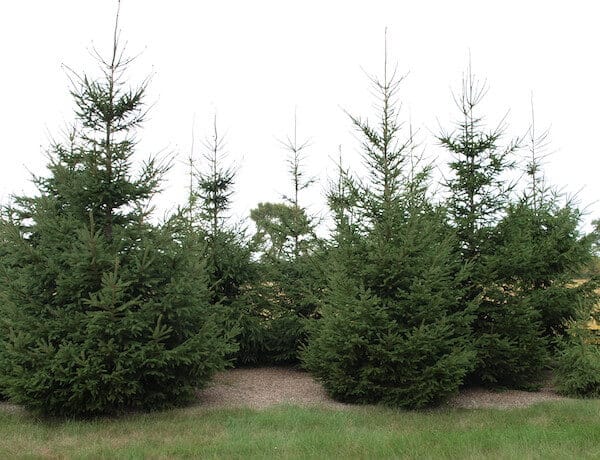 Scientific name: Picea abies
The Norway spruce is native to Northern, Central and Eastern Europe. It is one of the most widely planted spruces in Europe and beyond. Norway spruce has naturalized in some parts of northern U.S. It has dark green needles with pointed tips, and a medium fragrance.
Norway spruce is used as the main species for Christmas trees in several countries. In fact, each year Oslo sends a Norway spruce to London, Edinburgh and Washington D.C. to be put in the center of each city for Christmas. However needle retention isn't very good for this tree, so care must be taken to keep it well watered.
---
13. White spruce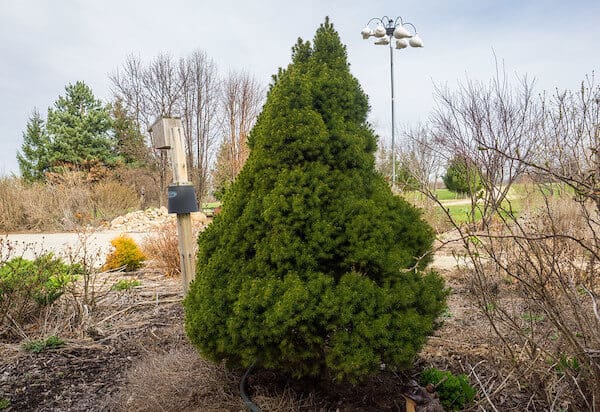 Scientific name: Picea glauca
The white spruce is a species native to Alaska and most of Canada. It has become naturalized in many U.S. states, especially around New England and the Great Lakes. Its many names include Canadian spruce, cat spruce, western white spruce, Alberta white spruce and Black Hills spruce. It is of great economic importance in Canada for wood, paper and construction.
White spruce has short blueish-green needles  with a blunt tip, good for hanging ornaments. Needle retention is better in this species than other spruces. It has a medium fragrance, but may have a less pleasant odor if the needles are crushed.
---
14. Arizona Cypress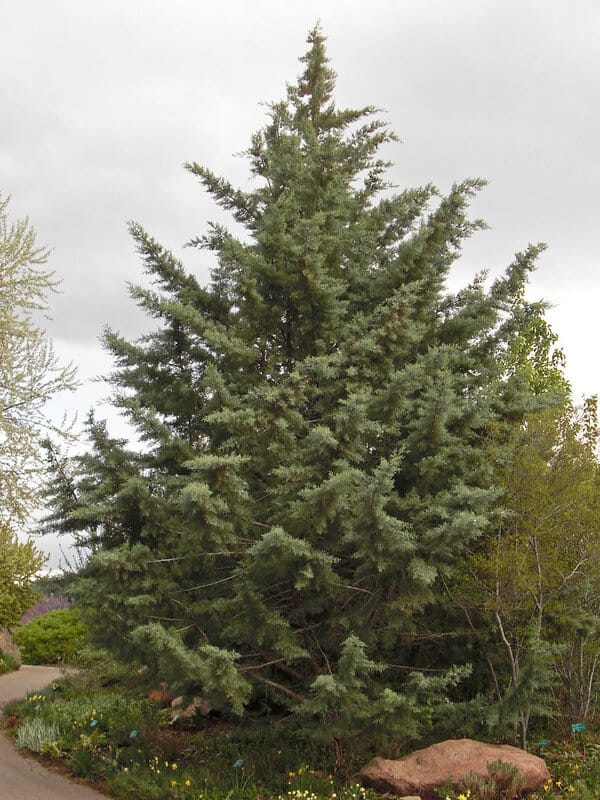 Scientific name: Cupressus arizonica
With a name that includes "Arizona", you know this tree is native to the southwestern United States. It is a hardy cypress and is often used in ornamental plantings. Arizona cypress has a pale green to blue-gray-green color. It has a moderate aroma that people describe as having undertones of lemon and mint.
You will mainly find this as a Christmas tree option at farms in the south, southwest and east coast of the U.S. There are several cultivars with fun names like Carolina Sapphire and Silver Smoke.
---
15. Leyland Cypress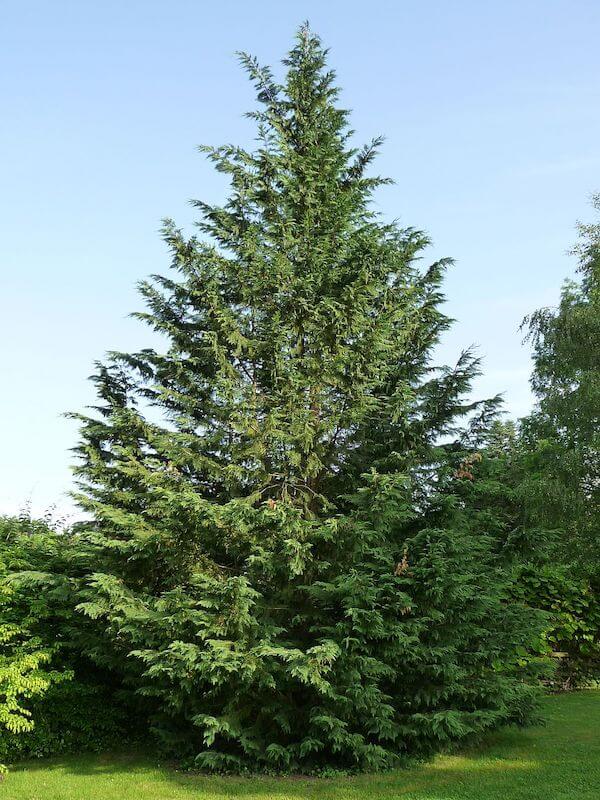 Scientific name: Cupressus × leylandii
One of the most popular trees grown in the south, the Leyland cypress is a hybrid of the Monterey cypress and Alaskan cedar. As a hybrid, it has no "natural" range, but is grown successfully in England, Australia, New Zealand, California and many states in the southeastern U.S. It has feathery green leaves and delicate bark. Branches grow upward, especially in Christmas-sized trees, giving the tree a triangular shape.
Leyland cypress has very little aroma, so if you are sensitive to scents or would rather pick a tree that isn't going to battle your scented holiday candles, this is a good choice.
---
16. Eastern Red Cedar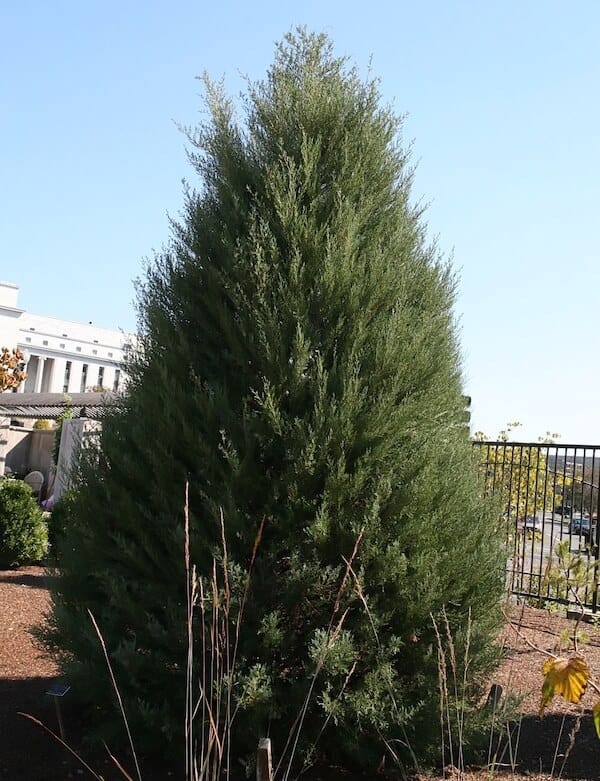 Scientific name: Juniperus virginiana 
Eastern red cedar also goes by red cedar and eastern juniper. In fact it is a member of the juniper family and not a true cedar. Its leaves are dark green and shiny, with branches pointing upward in a pyramid shape. It has a strong and pleasant aroma, but can be a bit prickly to handle without gloves.
It is not as commonly used as a Christmas tree as many others on this list. You are most likely to find it used for the holiday season in Arkansas, Missouri and the Oklahoma Ozarks.
---
17. Synthetic Tree
There are plenty of reasons to consider an artificial Christmas tree. Some of the pros are its reusable, won't shed needles and doesn't need watering. A good quality tree may seem expensive upfront, but it should last you many many years and become more cost-effective over time. I swear my parents have had their same synthetic tree for 20 years! There are certainly inexpensive options, but in general the more you spend the more realistic the tree looks and is made of higher quality materials.
Another cool thing about artificial trees is you can find trees that mimic the look of many species. If you have your heart set on a cypress tree but can't find a real one near you, you can order a faux look-alike! One of the best names in artificial trees is Balsam Hill. They are priced moderate to high, but are very high quality and realistic. For a more affordable option, check out the pictured 7.5 ft artificial holiday tree by Best Choice Products.
Remember, artificial trees can look skimpy when first assembled, so don't panic if it looks lackluster fresh out of the box. They need to be "fluffed" to appear full. This means fanning out all the branches, pulling them apart both sideways and up and down. By spreading the branches you fill in empty gaps and help to obscure the central pole. Balsam Hill has a helpful guide on how to do this. It's worth the effort!
---
18. Flocked Tree
"Flock" in craft terms is a short or pulverized fiber used to form a velvety pattern on another surface. A flocked tree then, is an artificial tree that has been coating with white flock to give it the appearance of being covered in a dusting of snow. Flocked trees can really add a "winter wonderland" touch to your standard tree, or can soften the color palate of harsh green to a more neutral look. Great for woodland, cottage and cabin styles. The pictured tree by Best Choice Products has a pretty heavy coating, but you can also find trees that only have a light flocking.
---
19. Colored Tree
Do you march to the beat of your own drum? Or follow a strong style aesthetic? Then perhaps something out of the ordinary is right up your alley. Christmas trees don't have to be green anymore. Now that artificial trees have grown in popularity, you can find all sorts of colors to match your decor or unique theme. Pictured above is a soft, muted pink tree by Goplus that could work for any number of vintage, kitschy or chic styles. No matter your style, you can find a tree to match. I've even seen a rainbow tree!
---
20. Pre-lit Tree
Tired of spending all your time stringing lights on the tree and trying to get them to sit just right? Let someone else do the work for you! Many artificial trees made nowadays can be purchased with the lights already attached. All you have to is plug it in. I've had this type of tree before and liked it, it really did make set-up easier. This option by the National Tree Company comes in multiple heights, and the company seems to generally have positive reviews. However like most artificial trees, you have to "fluff" it right to get the desired fullness.
However the con is that eventually, some of the lights will burn out and can make entire sections go dark. Hopefully you will get several years of use out of the tree before that happens. When purchasing a pre-lit tree it's good to check how easy it is to swap out bulbs, and see if the company has a warranty policy.
---
21. Pencil Tree
A pencil tree (also called a slim tree) is the name given to a tree that is tall but narrow. It's a great choice for small spaces, or if all you have is a tiny corner to stick your tree in. You get the height of a regular tree, but without the bulk. When I was living in a smaller condo I used a pencil tree for several years and it worked out great for my space. It's also a little less bulky to store. This option from National Tree Company comes in a variety of heights and reviewers say it has good fullness, but might need some fluffing when you set it up.
---
22. Half-Tree
Another space saver, this is exactly what it sounds like. Picture a Christmas tree cut in half from top to bottom. One half is flat so you can push it up against a wall, while the other half looks like a normal tree. A great way to get the feel of a regularly sized tree but still save a foot or more of space by being able to put it up against a flat surface. This model by Home Heritage is full sized at 7 foot and comes pre-lit. It's a great base for any decorating style!
---
23. Wall Mounted Tree
The ultimate space saver is the wall-mounted tree. If you are short on floor space then being able to hang a partial tree on your wall might do the trick. Some wall mounted trees come in several sections that you can design yourself, while others are one large piece. You can buy them plain or pre-decorated. The pictured option from Collections Etc comes decorated, lit and with a 60-day guarantee. Use as-is or as a base to add some of your own additional decorations.
---
24. Pop-up Trees
If you want the ultimate no-fuss tree, consider a pop-up / pull-up tree. This design has everything already attached including bow, ribbons, ornaments and lights. Everything is stitched to a base piece of fabric that you can collapse down to the size of a Christmas wreath. That saves a lot of storage space!
To set-up, you just have to put the pole in the base, then hang the top of the "tree" from the pole to expand. If you want the look of a well-put together tree without having to do any of the work decorating, this option might be for you. This option from BrylaneHome has multiple sizes and colors, and lots of great reviews.