Do you keep your Christmas tree up all year? While most people take their Christmas tree down shortly after Christmas Day, there are many who keep their Christmas tree up all year. There are a few reasons why people may choose to do this.
In this blog post, we will explore reasons people keep their Christmas tree up all year.
Why Do People Keep Christmas Trees Up All Year?
From the sentimental to the practical, there are a number of reasons why people may choose to keep their trees up all year. Some people just love the Christmas season so much that it never really ends for them, while others leave their trees up out of pure laziness. Read on to learn more about these reasons and see if you can relate to any of them.
1. Christmas Trees Bring Joy and Happiness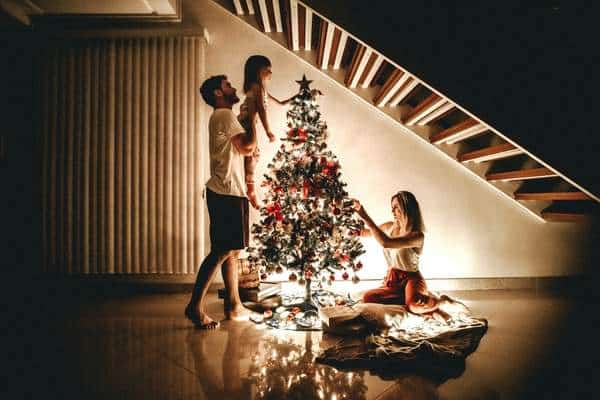 Some people keep their Christmas tree up all year round because it brings them joy. Having a beautiful tree in their home makes them happy and reminds them of the happiness that the holiday season brings.
Additionally, many people find that the smell of a real Christmas tree is relaxing and helps to create a warm and inviting atmosphere in their home. There are a lot of people who just love the spirit of Christmas and want to keep that feeling in their home year round.
Those people might want to keep a Christmas tree up all year to keep the joy of Christmas all year. Having a Christmas tree in their home helps to remind some of the reason for the season and keeps them focused on what is truly important. For these individuals, the holiday season is about more than just gifts and parties.
2. Year-Round Decorations For Different Occasions
There are many different holidays throughout the year, and each one has its own unique decorations. For some people, this means keeping their Christmas tree up all year round and simply changing the decorations to suit the season.
Keeping a Christmas tree gives you year-round decorations that suit your taste. For example, you can decorate the tree for Valentine's Day with red hearts and cupids. For Easter, you can hang decorative Easter eggs.
There's so many possibilities with decorations all year long with all of the different holidays. Keeping a Christmas tree up lets you show off all your different holiday decorations.
You can add new ornaments, change the color of the lights, or swap out the garland. This allows you to keep your tree looking fresh and new all year long.
3. Tradition And Culture
Different people have different family traditions. In some families, it's a tradition to keep a Christmas tree up all year.
Some folks also have different cultural beliefs. In some parts of the world, it's believed that Christmas trees ward off spirits. There are a lot of diverse traditions surrounding the Christmas holidays.
Keeping a Christmas tree up all year for many people is a matter of maintaining family traditions. If someone has lost a relative, keeping the Christmas tree up can provide comfort. It might be a reminder of a loved one.
Some families might create a new tradition by keeping their Christmas tree up all year.  This doesn't have to be an ancestral tradition. You can start this tradition this Christmas!
4. Potted Christmas Trees Can Be Year-round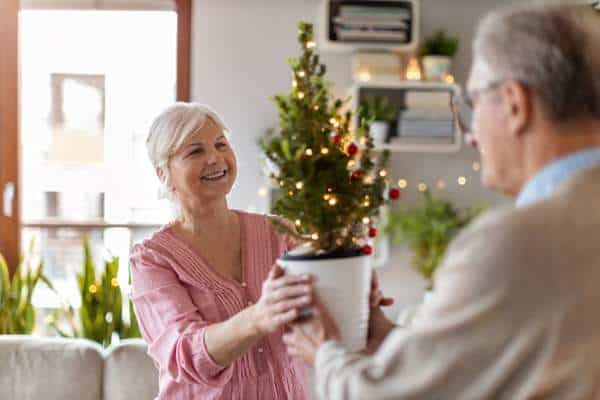 Potted Christmas trees are a popular way to keep the holiday spirit alive all year round. A potted tree can be a beautiful addition to your home décor.
Moreover, keeping a potted Christmas tree saves money year after year because you don't have to buy a new Christmas tree every year. You just need to take care of a potted tree.
Potted Christmas trees need similar care to other indoor plants. They require plenty of water and they also need to be kept away from too much heat so they don't dry out.
Additionally, it's eco-friendly. Reusing your tree is much better for the environment than throwing it away each year, and you have a live plant.
Keep in mind, Christmas trees are not naturally adapted to be grown in pots. They will need some extra tending at times to ensure it stays healthy.
5. It Saves Time and Money
Some people keep their tree up all year to save time, and if you value your time then money as well. If you purchase a real Christmas tree, you only have it for a few weeks out of the year. An artificial tree can last for years and years. This means that over time, an artificial tree will actually be cheaper than a real one.
With that in mind, it can be a pain to take an artificial tree out of storage each year. Some people choose to just leave their trees out all year simply because they can.
6. Unable To Put The Christmas Tree Away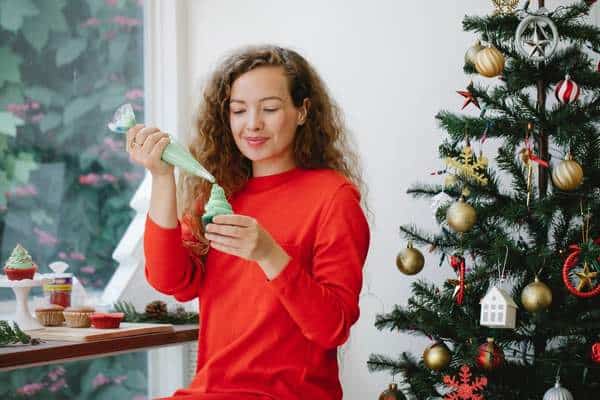 It's important to acknowledge that some people are not physically able to put up a Christmas tree and take it down. Sometimes it's easier to put one up and leave it up all year.
Some people with disabilities find it difficult or impossible to take down their Christmas tree. They may not be able to reach the top of the tree, or they may not be able to stand for long periods of time.
Others may have difficulty bending over, or they may not be able to lift heavy objects. Some elderly people live alone and find it difficult to take down their Christmas tree.
For many people with limited abilities, leaving their Christmas tree up brings year-round joy while it also makes it much easier to celebrate the holidays.