How tall should a Christmas tree be? The answer to this question really depends on a few different factors, such as the size of your room and the ceiling height.
In this article, we will talk about how to figure out how tall your Christmas tree should be.
How Tall Should A Christmas Tree Be?
Your Christmas tree should be as tall as your space allows without touching the ceiling. The average ceiling height is typically between 8-9 feet, with some ceilings being much higher. So, a 7 foot high Christmas tree will fit into most living rooms.
Below we will discuss some things to consider when you're picking out a Christmas tree to help you answer the question, how tall should a Christmas tree be?
Should A Christmas Tree Reach The Ceiling?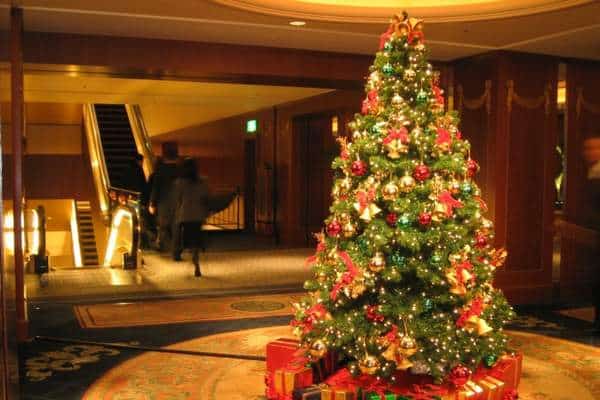 A debate that has been going on for many years is how tall a Christmas tree should be. The answer to this question is not as cut and dry as one would think. How tall your tree should be depends on a few factors, such as the size of your room, the height of your ceilings, and personal preference.
If you have high ceilings, then you may want to get a taller tree so that it can reach the ceiling. This will give the illusion of a bigger and grander tree. If you have a smaller room, then you may want to get a shorter tree so that it doesn't take up too much space.
It is also important to consider how much work you want to put into decorating your tree. A taller tree will require more time and effort to decorate than a shorter one.
Ultimately, you want the top of the tree to be about 12 inches from the ceiling or the height of your tree topper. You do not want your tree topper touching the ceiling.
---
Christmas Tree Height To Width Ratio
Consider the tree height to width ratio when picking out a tree. The ideal Christmas tree should 1.5 times taller than it is wide.
For example, if your tree is 7.5 feet tall, ideally you want the bottom branches to be 5 feet wide. In other words, the equation looks like this: 5 feet wide x 1.5 = 7.5 feet tall
---
Considering the height of your ceiling
When selecting a Christmas tree to decorate your home for the upcoming holiday season, it's important to consider the ceiling height in the room where you plan to place it. Considering the vertical space available is of top priority to ensure that it fits perfectly and creates a visually appealing display. In general, it's recommended that the height be at least 7 to 11 inches shorter than the height of the ceiling to provide enough space for a tree topper.
For 8 ft. ceiling
When you're choosing a tree for a room with an 8 ft ceiling, it's suggested that you select one that stands around 7 to 7.5 ft tall. The height range ensures that it'll fit comfortably within the space, providing ample clearance between the top of the tree and the ceiling. Ensuring your Christmas decor has enough space allows you to accommodate a topper and provide ample room for its stand.
For 10 ft. ceiling
We recommend selecting a Christmas tree that stands at least 8 to 9 feet tall for ceilings that are 10 feet in height. This particular tree height ensures it'll fit perfectly within the space, creating a balanced atmosphere within your room without overwhelming it.
For 12 ft. ceiling
If you have a high ceiling that reaches up to 12 feet, it's highly advisable to go for a tree that stands at 9 to 10 feet. By strategically positioning this tree, you can achieve a visually stunning and grand design within your room without occupying the whole space. If you want your tree to become the center of attraction in the room, consider the various ornaments you'll use to decorate it.
---
How To Choose The Right Christmas Tree Height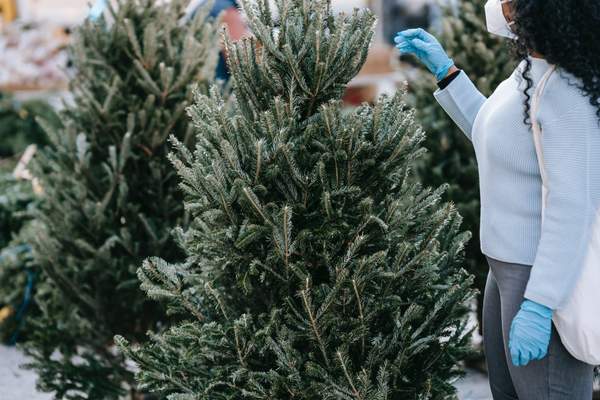 When it comes to picking the perfect Christmas tree, one of the most important factors to consider is the height of the tree. Below are the steps to choosing the right Christmas tree height.
1. Pick A Space
The first step is to pick a space where you want your tree to go. Look for a spot where the tree can get plenty of light but make sure you're not close to a fire or heat.
Keep in mind the bottom branches might be up to 5 or 6 feet wide, so consider the space around the tree too. Find a place where the tree is out of the way of foot traffic, also.
2. Measure The Space
Take a tape measure and find the dimensions of the area you have available for your tree. Measure how high the ceiling is and how wide the space is.
You might also measure your doorway spaces to make sure you can fit the tree in if you're planning on getting a larger tree. Once you have these measurements, you can start to narrow down your choices.
If you have a very small space, you will need to choose a miniature or tabletop tree. These trees are typically between two and four feet tall.
If you have a little more room to work with, you can opt for a small tree that is between four and six feet tall. This size is perfect for most homes and apartments. If you have a large space, such as a living room or great room, you can go for a taller tree that is six feet or taller.
Remember, you want to leave room between the top of your tree and the ceiling for your tree topper. Also, keep in mind how much your tree stand lifts the tree off the floor.
3. Shop For A Tree
Most places selling Christmas trees will have trees separated by height or have heights clearly displayed. Even though heights are displayed, it's a good idea to take your tape measure with you.
This is so you can get accurate measurements of your new tree. The average height of a Christmas tree is six to seven feet tall. If you have a smaller home, or if you plan to put the tree in a corner, you may want to consider a shorter tree.
A four to five foot tall tree is a good option for small homes or apartments. Again, don't forget to leave space for your tree topper and tree stand when measuring the Christmas trees while you shop.
4. Prepare and Trim The Tree (If Needed)
When you take your tree home, it's probably going to be wrapped in netting or rope. You can unwrap it and leave it standing overnight to let the branches spread back out before decorating. This will ensure your tree is full and healthy.
Once it's fully spread, move it into the space in your home you've picked out. You might need to trim it for balance or if there's random branches sticking out. If it's too wide, you can trim some back.
If you find that your tree is too tall, you can always saw the bottom of the trunk. You can also trim more branches if you need to.
---
Where to put your new Christmas tree
When preparing for a Christmas tree, it's important to consider more than just choosing the right height. You should also consider the specific location where you plan to place it.
Living room
People typically place their holiday trees and other decorations in the living room, as it's the most common location for such festive ornaments. The whole family and visitors typically gather in this space, which also serves as the central location for gift-giving. So, it's not surprising that this area is considered one of the most ideal places to display your Christmas tree.
Dining room
If your family loves entertaining guests with a hearty meal and enjoys engaging in intimate conversations by the dinner table, we highly recommend placing your tree in the dining room. By using this approach, you and your guests can enjoy yourselves in the joyous ambiance of the holiday season while having a delicious and satisfying meal.
Bedroom
Christmas trees serve a purpose beyond being mere festive designs that you can boast about to your visitors. You can also enjoy an intimate design inside your bedroom, allowing you to feel the holiday spirit immediately upon waking up.
Entrance hall
Having a lovely tree greet visitors in the entrance hall is undoubtedly the best way to warmly welcome those who visit your home. The presence of this tree not only gives a touch of Christmas charm to the surroundings but also creates an inviting ambiance that'll captivate your guests' hearts.
Things to consider when deciding where to put the Christmas tree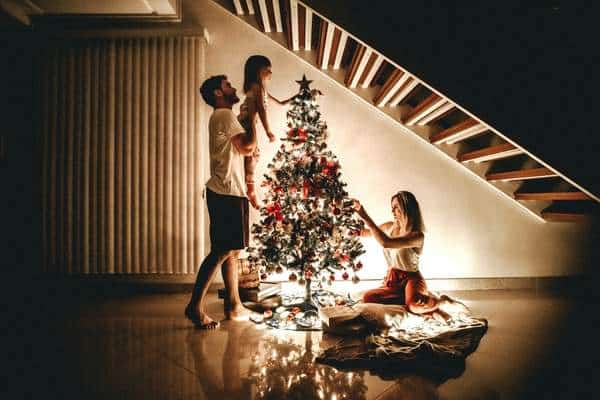 Furniture
When you're in the process of purchasing your holiday tree, it's important to take a look at the furniture that will be impacted by its presence. You should always consider if you need to rearrange your furniture or perhaps temporarily hide some of it to create your desired ambiance for the tree.
Power Source
The best choice you can make is to place your tree in an area where you can directly plug the lights and other electric ornaments into an outlet. By avoiding the presence of long extension cords scattered around your house, you'll effectively reduce the risk of hazards associated with these items.
Foot Traffic
You must also position the tree so that it won't be stumbled upon by passing individuals. To ensure the safety of children, it's important to place them away from the doorway or any area where kids may be running around.
Fire hazards
For maximum safety, you must maintain a significant distance between the tree and any potential fire hazards, such as the fireplace, candles, or any other objects that generate heat or flames.